Vacuum+
Conduct your Solid Phase Extraction (SPE) with ease using the Vacuum+ extraction manifold, which has the capacity to process up to twenty samples simultaneously.
Vacuum+ benefits from enhanced features designed for use with conventional silica-based, SPE cartridges as well as modifications that allow you to take full advantage of the unique performance characteristics of Waters Oasis Extraction Cartridges.
Seamless connectivity with OneLab via Wi-Fi/Ethernet, ensuring intelligent, fully remote, operation and tracking.
Enhanced vacuum control valve designed for use with Waters Oasis Extraction Cartridges, allows for easy drop removal.
Precision-machined Delrin cover with alignment posts for quick and easy alignment with microplate.
Vacuum gauge placement on cover, not in fluid path, allows for quick and easy waste removal at bottom by vacuum.
Vacuum+ technical specifications
Vacuum+ manifold
Based on Waters Extraction Plate Manifold for Oasis 96-Well Plates (186001831)
Weight of Vacuum+ domino
1.81 kg 
Kit compatible
Waters GlycoWorks RapiFluor-MS N-Glycan Kit 96 (176003635) 
Dimensions of Vacuum+ domino (W x L x H)
228.8 x 127 x 100 mm 
Labware compatible
Waters GlycoWorks HILIC µElution Plate 96 (186002780) 
Vacuum pump requirements
Vacuum pump rated for at least 25 – 30 in.-Hg 
Bridge technical specifications
Maximum operating altitude
2000 m
User interface
Through OneLab software
Dimensions (W x L x H)
120 x 120 x 35 mm
External power supply
Input 100-240 VAC, 1.4 A / output 24 VDC, 5 A, 120 W
Overvoltage category DC port
Cat I
Pollution degree of the intended environment
Pollution degree 2
Relative humidity
80% at 37°C
Environment temperature operating range
+4 to +37 °C
Power or current rating
5A
Network connectivity
Gigabit Ethernet / Wi-Fi 2.4 GHz and 5 GHz
Cleaning
Only with a wet tissue or isopropanol
Certification
CE, FCC, RoHS, WEEE
Discover our other products
Unique software solution that allows scientists to design and execute laboratory protocols.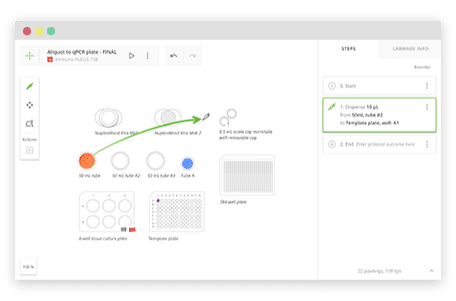 The unique liquid handling robot designed for scientists.