Peltier+
Compact all-in-one rapid heating and cooling technology, seamlessly connected with OneLab. Connected peltier device enabling remote set-up and continuous monitoring of temperature, minimizing error and ensuring maximum repeatability.
Connected to OneLab by Wi-Fi/Ethernet for remote control and tracking
Rapid cooling of consumables down to 0°C, as well as heating them up to 99°C
Compatible with unskirted, semi-skirted and skirted 96-pcr plate
Can be used manually, in combination with Pipette+ or directly with Andrew+ (like a Domino)
Peltier+ technical specifications
Maximal heating temperature
99°C*
Minimal cooling temperature
0°C*
User interface
Through OneLab software
Dimensions (W x L x H)
170 x 162 x 100 mm
Labware compatible
96-well PCR plate, skirted, Eppendorf (0030129555)
Relative humidity
80% at 37°C
Maximum operating altitude
2000 m
Environment temperature operating range
+4 to +37 °C
External power supply
Input 100-240 VAC, 1.4 A / output 24 VDC, 5 A, 120 W
Network connectivity
Gigabit Ethernet / Wi-Fi 2.4 GHz and 5 GHz
*Tested with 96-well PCR plate, skirted, LoBind, Eppendorf (0030129555) at room temperature of 26°C.
Discover our other products
Unique software solution that allows scientists to design and execute laboratory protocols.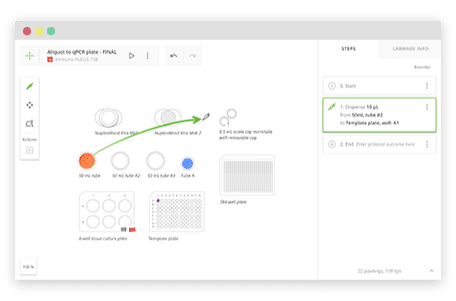 The unique liquid handling robot designed for scientists.