Easily design and execute experiments
from your own PC or Tablet.
Use OneLab
Use OneLab
   Watch OneLab story
Watch OneLab story
Design & execute laboratory protocols
Imagine being able to design and execute your laboratory experiment on your own PC or tablet, perhaps while you are in the middle of drafting your latest research manuscript! The OneLab software environment allows you to do this and more.  For example it enables you to calculate a dilution factor or design a serial dilution without error.  Each step of your laboratory experiment can be executed manually, semi- or fully automatically, depending on whether you have a OneLab compatible connected device or not.  Each step of your experiment is recorded by OneLab, and an automatic report generated, fully supporting both troubleshooting and auditing needs.
First, design your lab protocol
Intuitive graphical design
Define your laboratory protocol in OneLab through an intuitive graphical drag-and-drop design interface. For example, to perform a liquid handling operation, add the required consumables and samples on the virtual bench, and then drag the pipette from the source to the destination as you would on a real bench.
With OneLab you will be able to add heating, shaking or centrifugation steps and more. From any computer or tablet you may have at hand.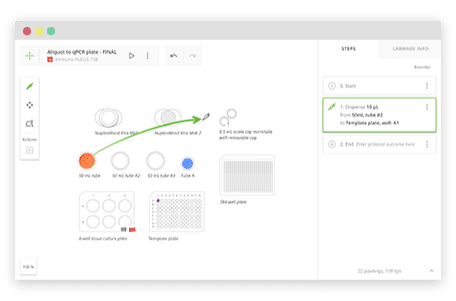 Perform complex actions easily
The more complex your workflow, the higher the risk of an error occurring and the experiment needing to be repeated… hard if you are working with, for example, rare tumour biopsies. Serial dilution, concentration normalization, heating, shaking, centrifugation, temperature control… any of these operations can be defined in OneLab,  eliminating the risk of error-prone calculations and inaccurate recipes description.
Share your protocols
Ensuring repeatability of your experiment in a collaborator's lab or in a ring trial, or across a network of regulated laboratories can be very challenging. The OneLab protocols, however, can be securely shared with fellow lab members or even collaborators in other labs, anywhere in the world.
Protocols designed in OneLab ensure that each step of your experiment can be correctly executed, reducing the likelihood of error or different interpretations, and avoiding the waste of valuable research time and funding.
Start from existing methods
If a OneLab protocol is available, you can use these methods in your lab right away, enabling you to get up and running even faster. If you don't find what you are looking for, don't worry, we are constantly adding new methods to the library, as well as validated protocols!
Then, execute your experiment
Manual execution guidance
When a protocol is defined in OneLab, you can execute it in multiple ways, depending on how your laboratory is equipped. If you don't have any OneLab-compatible devices, the software will simply guide you – step by step – through the manual execution of your protocol workflow.
Connected electronic pipettes execution
Manual pipetting is the most repetitive and tedious operation in the lab, but the transition to liquid handling automation can be challenging too. Pipette+ is the simplest solution for better results: while you perform your experiment, it defines the settings and parameters of your electronic pipettes via software, removing tedious and error-prone pipette manipulations. You click one button, and Pipette+ will automatically set the right pipette with the right liquid handling settings, performing operations like volume changes, mix or tip ejection!
Liquid handling automation
the Andrew+ pipetting robot enables biologists to move from laborious, manual procedures to easily programmable robotic workflows without requiring any lab automation knowledge. Using standard electronic pipettes, it will relieve you completely from the bench activity, and works inside hoods too…
Connected devices for other actions
Discover a rapidly evolving ecosystem of connected devices that Andrew Alliance is building together with partner organizations, supporting a wide range of laboratory workflows.
Enter the real smartlab with equiments that can either use manually including Pipette+ or employ with Andrew+ for more complex automation workflow.