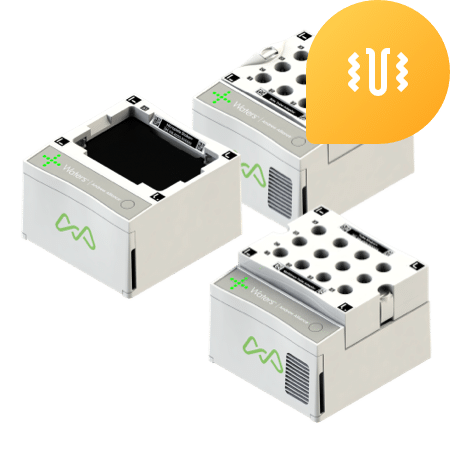 Shaker+
Market leading orbital shaker technology is seamlessly connected with OneLab, enabling remote set-up and monitoring of a wide range of vibration-free mixing speeds, minimizing error and ensuring maximum repeatability.
Connected to OneLab by Wi-Fi/Ethernet for remote control and tracking
Vibration-free motion ensures highest mixing speeds on the market, ranging from 200 to 3000 rpm (Microplate Shaker+) and 200 to 2000 rpm (Tube Shaker+), with an orbit of 2 mm
Gentle mixing of samples by planar orbital motion
Available for both microplates (Microplate Shaker+) and tubes (Tube Shaker+)
Designed for use with robots. Microplate Shaker+ benefits from an automatic microplate positioning system which enables precise manipulation of consumables by Andrew+, ensuring accurate and repeatable pipetting
Approved Protocols featuring Shaker+
Various approved methods that featured Shaker+ either with Andrew+ pipetting robot, with Pipette+ assisted pipetting system or manually
Genovis presents a fully automated workflow for sample preparation for middle-level analysis by LC-MS of Therapeutic mAbs directly from crude protein samples such as harvested cell culture fluid.
Waters SARS-CoV-2 LC-MS kit enables precise and reproducible preparation of three SARS-CoV-2 peptides from the NCAP protein using the Andrew+ pipetting robot facilitating efforts to gain more insights into the SARS-CoV-2.
This method describe the dilute-and-shoot approach and take advantage of the Andrew+ capabilities to automate sample preparation ensuring maximum pipetting precision and efficient mixing.
Shaker+ technical specifications
SKU numbers
Shaker+ for Microplates: 176004577
Tube Shaker+ with 16×90 mm tube adapter: 176005077
Tube Shaker+ with 5 mL tube adapter: 176005078
Tube Shaker+ with 12×75mm Tube Adaptor: 186010422
Mixing frequency
200 rpm up to 3000 rpm
(The maximum speed may differ according to the type of used labware)
Mixing orbit constant
2 mm
User interface
Through OneLab software
Dimensions (W x L x H)
170 x 162 x 100 mm
(The specified dimensions are subject to change according to the labware)
External power supply
Input 100-240 VAC, 1.4 A / output 24 VDC, 5 A, 120 W
Network connectivity
Gigabit Ethernet / Wi-Fi 2.4 GHz and 5 GHz
Certification
CE, FCC, RoHS, WEEE