The pipetting robot that uses conventional
The pipetting robot that uses conventional
electronic pipettes.
electronic pipettes.
Get a quote
Get a quote
  Watch video
Watch video
Easy laboratory automation
Andrew+ pipetting robot offers fully automated liquid handling using Andrew Alliance electronic pipettes and labware holders called Dominos. By adding Device+, our ever-expanding portfolio of connected devices and tools for processes such as heating, shaking or labware transportation, Andrew+ evolves into a full walk-away automation solution.
Creating the connected laboratory, Andrew+ is part of the OneLab ecosystem, executing laboratory protocols designed in OneLab.  This flexible architecture enables you to effortlessly transition from laborious manual pipetting procedures to error-free, fully-robotized lab workflows – without any knowledge of programming, laboratory robotics or automation engineering.
Watch Andrew+ in action
In these videos, our biologists explain how Andrew+ enables users to automate commonly used,
laborious, liquid handling for PCR Prep and Plasmid DNA Purification, respectively,
whilst ensuring superior repeatability and full traceability.
Intuitive user interface
Reproducibility and full traceability of sample preparation is assured using a highly intuitive browser-based software environment. OneLab enables scientists to graphically design their own pipetting protocols in minutes and execute them straight away in any laboratory in the world, even allowing the remote monitoring of ongoing experiments. Use a flexible and secure platform that withstands the rigors of regulatory validation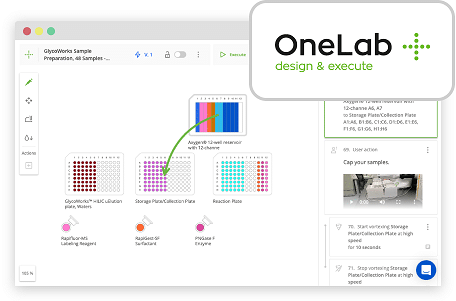 Widest pipetting volume range
Andrew+ pipetting robot uses single and multichannel electronic pipettes, ensuring the best liquid handling performance and maximum flexibility. Andrew Alliance smart electronic pipettes are manufactured by Sartorius and based upon their acclaimed Picus pipettes.
Andrew Alliance pipettes are optimized for used with the Andrew+ pipetting robot, allowing greater flexibility in the type of liquid handling experiments that can be run, providing superior experiment reproducibility, pipetting speed and a market leading dynamic range of dispensing volumes for a liquid handing robot –from 0.2 µL up to 10 mL.
Andrew+ is compact
The liquid handling robot is designed to fit the majority of laboratory benches and biosafety cabinets (BSC). Andrew+, even with 2 full rows of Dominos (allowing to use 7 microplates or 56 falcon tubes or 168 microtubes) occupies a depth of ~55cm/22", that fits even the smallest hoods. The unique compact size and design of our liquid handler also allows it to be located in a refrigerator, and work at a temperature of 4°C.
* with at least one connected domino on the edge: 711 mm / 29 in
Versatile working deck, tools and devices for all your needs
The Andrew+ deck layout is quickly adaptable to your experiment materials and are incredibly easy to set with the ever-expanding range of Dominos: a magnetic-based modular solution that enables Andrew+ to use a broad range of consumables.
In addition to pipetting liquids, the Andrew+ liquid handler can perform a wide range of complex experimental steps such as tube/plate transport or solid-phase extraction using vacuum.
Thanks to OneLab, you will benefit to a seamless integration of new capabilities added to your setting.
Automated Protocols with Andrew+
Specifically optimized for Andrew+, various applications and methods guarantee the delivery
of better pipetting accuracy and improved reproducibility
Waters SARS-CoV-2 LC-MS kit enables precise and reproducible preparation of three SARS-CoV-2 peptides from the NCAP protein using the Andrew+ pipetting robot facilitating efforts to gain more insights into the SARS-CoV-2.
A rapid antibody affinity purification method using Protein A magnetic beads is fully automated using the Andrew+ Pipetting Robot, achieving high recovery of monoclonal antibody with reliable reproducibility.
This method provides example protocols of automated sample preparation for standard curve generation, using the Andrew+ Pipetting Robot with cloud-native OneLab software.
Get an extra pair of hands 
Andrew+ technical specifications
Power requirement
Voltage range 90~264 VAC, AC current 1.85A/115VAC, 1.0A/230VAC, Frequency 47~63Hz, inrush current (max) 120A/230VAC 
Electrical configuration
Andrew+ should be connected exclusively with the power supply GSM220B24-R7B, in Asia, and GSM160B24-R7B, in ROW, and electrical cable supplied with the instrument 
Interface
Wi-fi (2.4 Ghz / 5 GHz)
Ethernet connection (1Gigabit)
Operating temperature
20°C-37°C 
Imaging system
Hand: High resolution camera equipped with white LED light
OLM: High resolution camera equipped with low power white LED and class II red laser (wavelength = 650 nm)
Operating humidity
Maximum relative humidity 80% for temperatures up to 37° C. 
Altitude
Up to 2000 m above mean sea level
Safe operating conditions for the system
Fluctuation of the supply voltage up to 10% of the rated voltage 
Transient overvoltage 
Degree of protection
IP 20
Required personal computer characteristics
Tablet or computer equipped with Internet browser and network capability.
Dimension 
Dimension with both arms folded:
53.5 cm (H) x 43 cm (W) x 45.5 cm (L)
Weight
16 kg (only the robot)
Audio
Integrated audio system (nominal power = 1.5 W)
Additional external power interfaces
Connection with docking station (1A @ 24 V)
4 tool slots embedded in the tool stand (500mA @ 7.5 V)
Working space
Domino self-assembling configuration dynamically set-up on a conventional bench space, allowing operations on an arbitrary set of Domino from 1 up to 11 elements compatible with multi-channel pipette – according to available space and experiment requirements.