Magnet+
Magnet+ ensures a simple and reliable method of purifying genomic, plasmid and mitochondrial DNA, using magnetic beads. Under optimized conditions, DNA selectively binds to the surface of magnetic beads, while other contaminants stay in solution. Purified DNA can then be used directly in molecular biology applications such as sequencing or restriction digests.
No need for centrifugation or vacuum manifolds, which can be a bottleneck in many automated processes
Active vertical pelleting movement guarantees consistency between small and large volume labware
Connected to OneLab by Wi-Fi/Ethernet for remote control and tracking
Separation can be achieved in large volume solutions using Corning Falcon 50mL tubes
Can be used manually, in combination with Pipette+ or directly with Andrew+ (like a Domino)
Magnet+ technical specifications
Labware compatible
Falcon® 50mL Conical Centrifuge Tubes (352070)
Maximum operating altitude
2000 m
User interface
Through OneLab software
Dimensions (W x L x H)
170 x 162 x 115 mm
(The specified dimensions are subject to change according to the labware)
External power supply
Input 100-240 VAC, 1.4 A / output 24 VDC, 5 A, 120 W
Pollution degree of the intended environment
Pollution degree 2
Relative humidity
80% at 37°C
Environment temperature operating range
+4 to +37 °C
Power or current rating
5 A
Overvoltage category DC port
Cat I
Network connectivity
Gigabit Ethernet / Wi-Fi 2.4 GHz and 5 GHz
Cleaning
Only with a wet tissue or isopropanol
Certification
CE, FCC, RoHS, WEEE
Discover our other products
Unique software solution that allows scientists to design and execute laboratory protocols.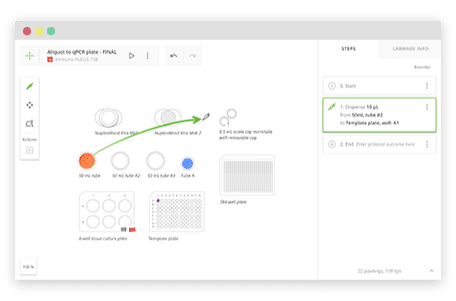 The unique liquid handling robot designed for scientists.