Automate your shaking, heating, cooling, and more.
Additional connected devices
Additional connected devices
Automate your shaking, heating, cooling, and more.
Beyond automated liquid handling…
The pace of innovation in current day biological research demands the highest levels of reproducibility and traceability. Discover the rapidly evolving ecosystem of connected devices that Andrew Alliance is building together with partner organizations, supporting a wide range of laboratory workflows.
Andrew Alliance is bringing the Internet of Things (IoT) into the Lab, through an expanding range of additional connected devices such as Peltier+ which is a connected Peltier device, and Shaker+ which is a connected shaker device.  These devices are connected to Andrew Alliance's unique browser-based software, either through the cloud or a standalone server, complementing its existing connected pipetting robot, Andrew+, and guided smart pipetting system, Pipette+.
Microplate & column gripper
Tool for Andrew+
These tools are used to move labware from one Domino in Andrew+ workspace, to another, providing greater adaptability to a wider range of workflows.
Discover our other products
Unique software solution that allows scientists to design and execute laboratory protocols.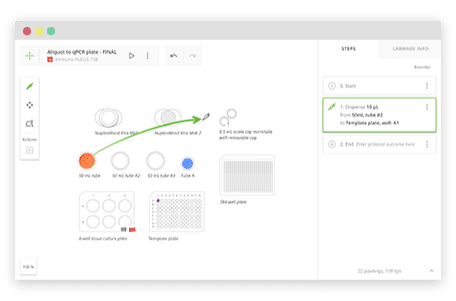 The unique liquid handling robot designed for scientists.