Shaker+
Market leading orbital shaker technology is seamlessly connected with OneLab. Connected shaker device enables remote set-up and monitoring of a wide range of vibration-free mixing speeds, minimizing error and ensuring maximum repeatability.
Connected to OneLab by Wi-Fi/Ethernet for remote control and tracking
Vibration-free motion ensures highest mixing speeds on the market, ranging from 200 to 3000 rpm
Gentle mixing of samples by planar orbital motion
Can be used manually, in combination with Pipette+ or directly with Andrew+ (like a Domino)
Shaker+ technical specifications
Mixing frequency
200 rpm up to 3000 rpm
(The maximum speed may differ according to the type of used labware)
Speed setting resolution
1 rpm
Labware compatible
• 96-well cell culture microplate, Greiner Bio-one (655101)
• 96-well PCR plate, skirted, LoBind, Eppendorf (0030129555)
Maximum operating altitude
2000 m
User interface
Through OneLab software
Dimensions (W x L x H)
170 x 162 x 100 mm
(The specified dimensions are subject to change according to the labware)
External power supply
Input 100-240 VAC, 1.4 A / output 24 VDC, 5 A, 120 W
Overvoltage category DC port
Cat I
Pollution degree of the intended environment
Pollution degree 2
Mixing orbit constant
2 mm
Mixing regulation accuracy
±25 rpm
Relative humidity
80% at 37°C
Environment temperature operating range
+4 to +37 °C
Power or current rating
5A
Network connectivity
Gigabit Ethernet / Wi-Fi 2.4 GHz and 5 GHz
Cleaning
Only with a wet tissue or isopropanol
Certification
CE, FCC, RoHS, WEEE
Discover our other products
Unique software solution that allows scientists to design and execute laboratory protocols.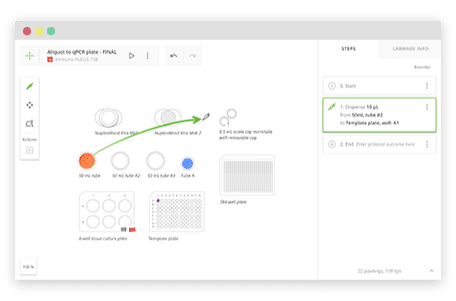 The unique liquid handling robot designed for scientists.